Description
ASUS GeForce GTX 1080 8GB GDDR5X PCI Express 3.0 Video Card STRIX-GTX1080-8G-GAMING For Sale
ROG STRIX-GTX1080-8G-GAMING
ASUS ROG Strix GeForce® GTX 1080 outshines the competition
DirectCU III with Patented Wing-Blade Fans delivers 30% cooler and 3X quieter performance.
ASUS FanConnect features 4-pin GPU-controlled headers connected to system fans for optimal thermal performance.
Industry Only Auto-Extreme Technology with Super Alloy Power II delivers premium quality and best reliability.
Aura RGB Lighting to express personalized gaming style.
VR-friendly HDMI ports for immersive virtual reality experiences.
GPU Tweak II with Xsplit Gamecaster provides intuitive performance tweaking and lets you stream your gameplay instantly.
NVIDIA ANSEL for a revolutionary new way to capture in-game screenshots.
NVIDIA GameWorks™ provides an interactive and cinematic experience, as well as incredibly smooth gameplay.
OUTSHINE THE COMPETITION
ROG Strix GeForce® GTX 1080 gaming graphics cards are packed with exclusive ASUS technologies, including DirectCU III Technology with Patented Wing-Blade Fans for 30% cooler and 3X quieter performance, and Industry-only Auto-Extreme Technology for premium quality and the best reliability. Aura RGB Lighting enables a gaming system personalization and VR-friendly HDMI ports let gamers easily enjoy immersive virtual reality experiences. ROG Strix GeForce® GTX 1080 also has GPU Tweak II with XSplit Gamecaster that provides intuitive performance tweaking and instant gameplay streaming.
LEVEL UP PERFORMANCE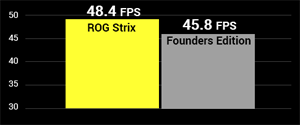 Ashes of The Singularity™
Resolution: 2560 x 1440
Setting: Crazy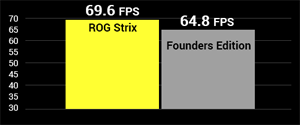 HITMAN™
Resolution: 3840 x 2160
Setting: Ultra
GAME COOL AND PLAY SILENT
DirectCU III Technology with Direct-GPU Contact Heatpipes
30% Cooler and 3X Quieter Performance
Exclusive DirectCU III cooling technology features direct-GPU contact heatpipes that transports more heat away from the GPU and outperform reference designs, achieving up to 30% cooler gaming performance.
* Image for illustration only. Actual design may vary.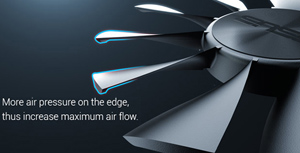 Patented Triple Wing-Blade 0dB Fans
Max Air Flow with 105% More Air Pressure
DirectCU III features triple 0dB fans engineered with a patented wing-blade design that delivers maximum air flow and improved 105% static pressure over the heat sink, while operating at 3X quieter volumes than reference cards. The 0dB fans also let you enjoy games in complete silence and make DirectCU III the coolest and quietest graphics card in the market.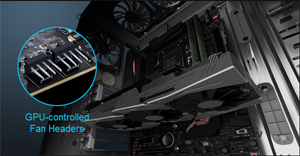 ASUS FanConnect
Targeted Supplemental Cooling
When gaming, GPU temperatures are often higher than CPU temps. However, chassis fans usually reference CPU temperatures only, which results in inefficient cooling of the system. For optimal thermal performance, ROG Strix graphics cards feature two 4-pin GPU-controlled headers that can be connected to system fans for targeted cooling.
* Image for reference only. Actual PC layout may vary.
PREMIUM QUALITY AND
BEST RELIABILITY
Auto-Extreme Technology
Industry-only 100% Automated Production Process
All ASUS graphics cards are now produced using Auto-Extreme Technology, an industry-exclusive, 100% automated production process that incorporates premium materials to set a new standard of quality. Auto-Extreme Technology ensures consistent graphics card quality as well as improved performance and longevity. This new manufacturing process is also environmentally friendly, eliminating harsh chemicals and reducing power consumption by 50%.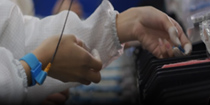 100% automation Remove human fallibility from production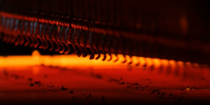 Fortify component overclocking stability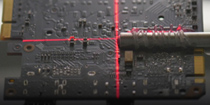 Advanced and stringent quality control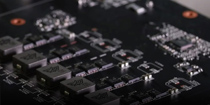 Advanced components design innovation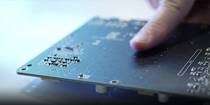 Smooth circuit board without sharp bumps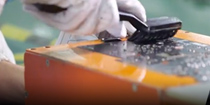 Flux-free production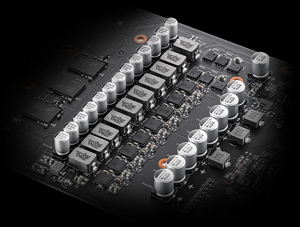 8+2 Phase Super Alloy Power II
Enhanced Durability and Efficiency
ASUS engineers have integrated premium alloy components into their graphics card designs to reinforce overall reliability. Super Alloy Power II components greatly enhance efficiency, reduce power loss and achieve thermal levels that are approximately 50% cooler than previous designs.
PERSONALIZED GAMING STYLE
Aura RGB Lighting
Where Style Meets Performance
Featuring Aura RGB Lighting on both the shroud and backplate, ROG Strix graphics cards are capable of displaying millions of colors and six different effects for a personalized gaming system.
Experience Aura
Color and Brightness
Experience Aura Lighting Effect

Static
Always on

Breathing
Fades in & out

Strobing
Flashes on & off
Color cycle
Fades between the colors of the rainbow

Music effect
Pulses to the beat of your music

GPU temperature
Changes color with GPU load
GEAR UP FOR ULTIMATE
GAMING EXPERIENCE
VR-friendly HDMI Ports
Enjoy Immersive Virtual Reality Experience
ROG Strix graphics cards have two HDMI ports for connecting a VR device and display at the same time, so you can enjoy immersive virtual reality experiences anytime without having to swap cables.
Enjoy the Flawless and Complete Gameplay
The Best Combo for Ultra-smooth Gaming
NVIDIA G-SYNC™ synchronizes the ROG Swift gaming monitor's refresh rate to the GPU in your GeForce® GTX-powered PC, eliminating screen tearing and minimizing display stutter and input lag. With ROG Strix gaming graphics cards and ROG Swift gaming monitors, scenes appear instantly, objects look sharper, and gameplay is super smooth, giving you a stunning visual experience and a serious competitive edge.
GAME YOUR WAY
GPU Tweak II with XSplit Gamecaster
Tweak Till Your Heart's Content
Redesigned with an intuitive, all-new UI, GPU Tweak II makes overclocking easier and more visual than ever, while still retaining advanced options for seasoned overclockers. With one click, the new Gaming Booster function maximizes system performance by removing redundant processes and allocating all available resources automatically.
Gaming Booster
One-click Performance Up

Visual effects:
Boost your performance by turning off windows visual effects.

System Services:
Automatically or manually turn off windows services or process.
Memory Defragmentation:
Re-arrange & free your system memory without closing any processes.
XSplit Gamecaster
Instant Gameplay Streaming
An included 1-year XSplit Gamecaster premium license* — a $99 USD value — lets you easily stream or record gameplay via a convenient, in-game overlay. The overlay also displays GPU clock speed, temperature, and VRM usage, and has GPU Tweak II controls, so gamers can choose a gaming profile and boost performance with just one click.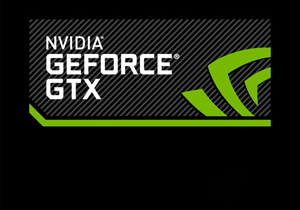 Ultimate Gaming Platform
NVIDIA's new flagship GeForce® GTX 1080 is the most advanced gaming GPU on the planet. Driven by the new NVIDIA Pascal™ architecture, the GeForce GTX 1080 delivers the amazing performance, innovative new gaming technologies, and immersive, next-gen VR.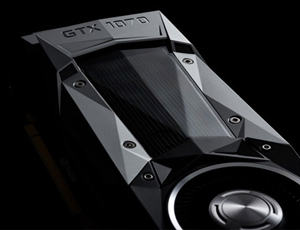 Performance
The flagship GeForce GTX 1080 is a quantum leap in performance and power efficiency. It's built using ultra-fast FinFET and high-bandwidth GDDR5X technologies, and supports DirectX 12 features for the fastest, smoothest, most power-efficient gaming experiences.
Next-Gen Gaming Technologies – NVIDIA Pascal
GeForce GTX 1080 uses the power of Pascal to meet the demands of the latest displays, including VR, ultra-high-resolution, and multiple monitors. It features NVIDIA GameWorks™ technologies for smooth gameplay and cinematic experiences, as well as revolutionary 360-degree image capture—even in VR.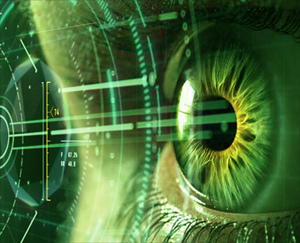 VR Ready
Discover next-generation VR performance, the lowest latency, and plug-and-play compatibility with leading headsets—driven by NVIDIA VRWorks™ technologies. VR audio, physics, and haptics let you hear and feel every moment.
ROG Strix is the newest recruit into the Republic of Gamers. A series of specialized gaming gear designed for the rebel in all of us, Strix exemplifies ROG's premier performance, innovative technology, and leading quality, but with its own confident and dynamic attitude. Featuring bold designs and bright colors, this exciting new series possesses a spirit of fierce individualism that charges every gaming experience with thrilling energy. ROG Strix equips players with the necessary speed and agility to dominate their game. A new generation of force has arrived. Join the Republic and experience the power of ROG Strix.