Description
EVGA GeForce GTX 960 04G-P4-3966-KR 4GB SSC GAMING w/ACX 2.0+, Whisper Silent Cooling w/ Free Installed Backplate Graphics Card For Sale
The EVGA GeFore GTX 960 delivers incredible performance, power efficiency, and gaming technologies that only NVIDIA Maxwell technology can offer. This is the perfect upgrade, offering 60% faster performance and twice the power efficiency of previous generation cards*. Plus, it features VXGI for realistic lighting, support for smooth, tear-free NVIDIA G-SYNC technology, and Dynamic Super Resolution for 4K-quality gaming on 1080P displays. The latest versions come outfitted with 4GB of high speed GDDR5 memory giving you higher texture qualities and better 4K performance!
The new EVGA ACX 2.0+ cooler brings new features to the award winning EVGA ACX 2.0 cooling technology. A Memory MOSFET Cooling Plate (MMCP) reduces MOSFET temperatures by up to 11°, and optimized Straight Heat Pipes (SHP) reduce GPU temperature by an additional 5°. ACX 2.0+ coolers also feature optimized Swept fan blades, double ball bearings and an extreme low power motor, delivering more air flow with less power, unlocking additional power for the GPU.

DBI-DB NOISE INVERTER
EVGA's ACX 2.0+ fan turns off below 60°C, generating 0dB of noise.

QSD BIOS – QUICK SWITCH DUAL BIOS
Multiple integrated BIOSes allow you to switch to the secondary with the flick of a switch.

MMCP – MEMORY MOSFET COOLING PLATE
Full size cooling plate makes direct contact with memory and MOSFETS, reducing memory up to 9°C and MOSFET up to 11°C.

SHP – STRAIGHT HEAT PIPES
Triple 8mm straight heat pipes offer 6% better heat dissipation than bent heat pipes with reduced thermal resistance.

OPT – OPTIMIZED POWER TARGET
The power target is precisely tuned for the perfect balance of thermal, power and performance, offering 33% more power over reference.
WHAT DOES THIS ALL MEAN?
-IMPROVED COOLING
-REDUCED FAN NOISE
-BETTER OVERCLOCKING
EVGA ACX 2.0+ fans use double ball bearings, which offer 400% longer lifespan than the sleeve bearing fans used by competitors. The oil that is used in Sleeve bearing fans makes them vulnerable and prone to failure after time when the oil dries up. Upgrade to EVGA ACX 2.0+ and your card will go the distance!
4GB of High Performance Memory running at over 7,000MHz giving you higher texture qualities in games, better 4K gaming performance and optimized for the next generation of gaming.
EVGA ACX 2.0+ MEANS BETTER OVERCLOCKING
Did you know that power consumption of the fans can directly affect your maximum overclock? The maximum "power target" takes into account the fan power consumption, meaning the lower the power consumption from the fan, the more power available for the card. EVGA ACX 2.0+ coolers use over 4X lower power than competitor's allowing for better and more stable overclocks. In some cases, just a few watts of additional power for the card can provide an additional headroom of up to +25MHz higher GPU or +350MHz memory frequency!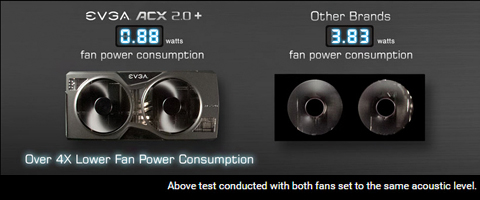 Lower Fan Power = More Power for Overclocking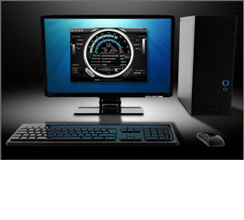 Redesigned to harness the power of GPU Boost 2.0, EVGA PrecisionX sets another baseline for what overclocking software should be.
Key Features
GPU and Memory Frequency/Clock Offset
Temperature Target Control
Pixel Clock Overclocking
Robust monitoring allowing ingame, system tray and/or Logitech LCD monitoring
In game screenshot hotkey, supports BMP, PNG and JPG formats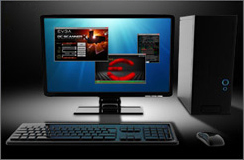 Featuring a brand new look and layout, this popular application has been updated to show all of the GeForce GTX 980/970 vitals.
Key Features
Built-in stress tester to find and report artifacts
Benchmark function to quickly test your performance
CPU Burn In Module
Built-in log functionality